Product name:
JHDS-99E-4 Electric Imaging Comprehensive Operating Table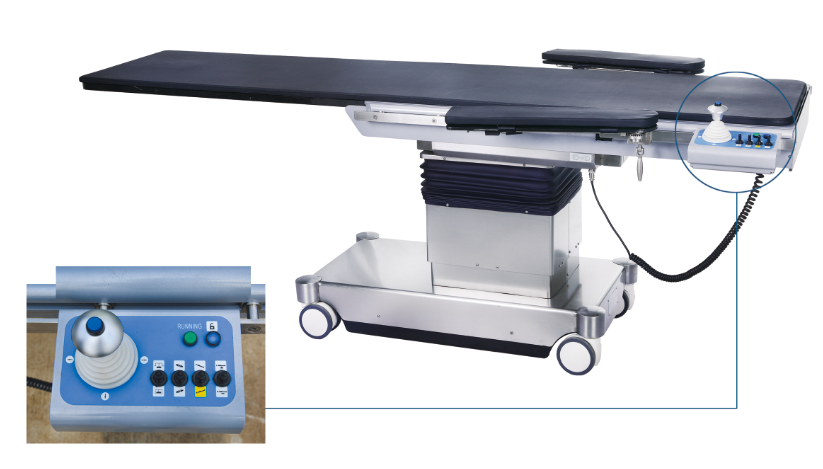 >> Detailed description:
The JHDS-99E-4 electric imaging integrated operating table adopts the design concept of combining modern technology with humanity, electric mechanical transmission technology, conforms to the current imaging and diagnosis requirements in the operation process, and supports various brands and models of c-arm X-rays The machine performs a full range of high-definition imaging of various parts of the human body, and can perform heart, peripheral blood vessels, neurovascular, and interventional radioangiography of patients, and can meet the needs of head, neck, thoracic-abdominal cavity, perineum and extremity surgical operations and gynecological operations Requirements.
The platform lifting, forward and backward tilt, left and right tilt, longitudinal translation, lateral translation, and braking are all realized by electric devices, using 24V DC voltage, safe and reliable.
The bed surface is designed to move 1880mm away from the head and 1000mm away from the foot, which maximizes the openness, no obstructions, and blind spots under the bed surface to meet various surgical needs. No need to move the patient to perform whole-body x light fluoroscopy. Meet the requirements of 3D image acquisition.
Bed panel: made of carbon fiber material, low X-ray absorption coefficient and high-definition perspective imaging effect, greatly reducing the radiation damage of X-rays to patients and staff.
Is equipped with a built-in emergency power supply, which can be used in emergency after the network power supply is cut off.
Scan the QR code to read on your phone
We could not find any corresponding parameters, please add them to the properties table
Online Message
If you are interested in us, welcome your message, we will reply you in time!